Language People, formerly Bay Area Translations, Inc., provides Interpreting and translation services in California and across the country. We are a leader in the field of American Sign Language (ASL) interpreting. For the past twenty-five years customers have relied on Language People's skill, reliability, and professionalism for quality translating, spoken language and ASL interpreting, Video Remote Interpreting services, face-to-face interpreting, and translations. Language People provides 24/7 interpreting services to hospitals, courts, and many private companies.  Along with in-person interpretation, Language People is also a VRI provider.  The company has designed its own platform that allows patients and doctors to remotely access, via video, an interpreter whenever necessary, without the need of arranging an appointment or waiting for an interpreter to arrive at the location.  Language People is at the forefront of innovation in the language services field. The company is constantly searching for new ways to improve means of communication and provide equal access to all. Since 1988, Language People has provided accurate and timely interpreting and translating services in the areas of law, technology, medicine, business, government and other professional fields.

Our clients include federal, state and local government agencies, public and private companies, institutions and individuals. Our team of over 4,000 bilingual professionals assures we have the resources to provide you with superior language services, when and where you need them.

Several of the Fortune 100 companies rely on us to get the job done. Don't worry though, whether you are an individual, a small company, or a world-renowned corporation, Language People provides all our clients with the same superior service. Every client is our best client.

We cover over 150 languages from Afrikaans to Zulu and American Sign Language. Our interpreters and translators undergo a rigorous screening and testing process to certify their proficiency and fluency in each of their working languages.

Whether you need a one-page document translated FAST, a 100-page employee manual translated into three languages, an interpreter for a one-time appointment or a full-time employee who is fluent in several languages, Language People can meet your needs. No job is too big or too small.

We will provide the same excellent service every time you need us. We are available 24/7 and excel at rush and emergency jobs. With one call you get the assurance and security of knowing that your job will be done accurately, professionally and cost-effectively. We look forward to being YOUR language partner!

Language People was founded, nurtured and grown by people determined to make a difference.
The company was founded in 1988 by Anna Ruberto, an Italian language professor and translator in San Francisco, California. The company was subsequently purchased in 1998 by Michel Rousselin, a former United Nations interpreter and Korean War Veteran. Language People became a woman-owned business when Lisa Wrench partnered with Michel Rousselin in 2004 and became a 51% owner.

Language People was built on a firm foundation of social responsibility, ethics, and integrity. The commitment to those values is closely tied to the background of the owners. Michel Rousselin and Lisa Wrench have devoted their personal and professional lives to the service of those in need with special attention given to communication and cultural differences.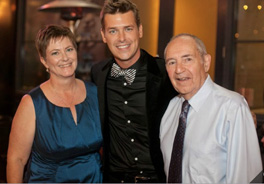 The importance of social responsibility was instilled in Michel Rousselin at an early age. He was born in France only two years before Hitler began his devastating rise to power. When young Michel was only nine years old his mother, Sylvia Curtis Joseph Rousselin, joined the French Resistance Movement. Michel was forced into hiding when it was discovered that the Nazi regime planned to use him in order to gain information about his mother and her work within the Resistance. Sylvia was eventually arrested and interred in a concentration camp. Mother and son were not reunited until after the concentration camp was liberated at the end of the war. Those embattled years shaped the direction of their lives. Both he and his mother continued their professional careers working to advance human rights throughout the world.  Mr. Rousselin chose to focus on his language skills to accomplish this task.  After World War II, as a member of the United States Army, he interpreted for the Allied Generals as they reformed Europe during the Marshall Plan. Later, during his tenure at the United Nations, Mr. Rousselin interpreted for United States Ambassadors, top government officials from countries around the world, and even Allied General and later President of the United States, Dwight D. Eisenhower.

Lisa Wrench, Chief Executive Officer of Language People, utilizes a broad range of business development and management skills to promote her personal goals of social justice. In the 1980's Ms. Wrench worked in partnership with the State of California to promote job training for disadvantaged individuals. Through her efforts, single mothers on welfare became advanced electronic circuit designers and drafting engineers. Her company was a model environment of social innovation. Impecunious mothers, desperate to break the cycle of government dependence and poverty, were provided the opportunity to learn skills and become contributing members of society. Ms. Wrench was also owner of a successful executive employment company. Ms. Wrench was responsible for bringing together highly skilled executives, managers, and technical staff to fill critical positions for well-known companies such as HP, Nvidia, Sun Microsystems, Intel, and the University of California Medical Centers. Among her varied accomplishments Ms. Wrench is a patent holder of internet search technology. One of her most rewarding achievements resulted from preliminary work with the International Federation of Red Cross/Crescent Society (IFRC) that may lead to a large donation of her personal wealth to that organization.  As part of her discussions with that organization, she shared her vision of business for social good.  Her ideas helped lead to the development of an IFRC International Superfund.  Companies such as Nestle, Microsoft, and AOL continue to contribute to the Superfund supplying IFRC with much-needed resources. Ms. Wrench joined Language People, because she recognized that it provided the perfect opportunity to combine her entrepreneurial skills with her passion for creating businesses that contribute to the social good.

The multitude of individuals who make up Language People strive daily to meet that ideal.