Sign language Interpreters are some of the most highly trained and specialized professionals working in the interpreting field today. American Sign Language (ASL) interpreters begin with years of advanced schooling to learn Sign Language. In addition to ASL they are also trained in various other systems of sign. Unlike general language interpreting, Sign Language interpreter training programs are specifically designed to integrate the interpreter into the cultural nuances of the Deaf community. Course studies include Deaf culture and history. They learn the specialized requirements necessary for Deaf interpretation. Our interpreters understand that ASL interpreting for the Deaf involves far more than the transferring of information from a spoken language into sign language.
Certification standards for sign interpreters are more rigorous than most spoken language testing requirements, ensuring experience, aptitude, and expertise. Certified interpreters adhere to a strict code of ethics and conduct. In addition, our privacy policies exceed those of most agencies. Language People's sign language interpreters are some of the best in the business. You can feel confident that with our skilled ASL interpreting professionals you will always have an accurate and respectful exchange of information between you or your representative and the Deaf individual. 
Things to consider when requesting a Sign Language Interpreter…

What is your client's signing style:

One little known fact about sign language is that it is not universal language. There a many forms of sign language. There are variances based upon the country of origin. Sign Language varies in America. There are several systems that differ at a conceptual level. The range of systems include: ASL-American Sign Language, SEE-Signed Exact English, PSE-Pidgin Signed English, Cued Speech, and Tactile (Deaf/Blind). Deaf individuals need sign interpreters who are fluent in their specific system in order to communicate effectively. There are many factors that can determine an individual's sign style. These include whether they were born Deaf or became Deaf over time and what country they or their parents learned to sign in. Sometimes it is purely preferential. These things are important for interpreters to know before accepting an appointment so that they are able to provide the best possible service. Although ASL is by far the most widely used, it is important is important not to presume. Before requesting an interpreter, gather as much information about your Deaf client as possible. Not only will your interpreter appreciate knowing ahead of time about the client they will be serving, but it will also help our agency match the best interpreter to your client's specific needs.
What is the topic of the appointment?

In many cases, there are vocabulary words that are specific to a particular business or industry. It is important for the interpreter and agency to know when they are accepting a medical, technical, scientific, legal, or industry specific appointment. It will enable us to select the most appropriate interpreter for that job. Try to provide the agency with all the information you have regarding content, format, and the audience. Any conference manuals or scripts that can be provided ahead of time are greatly appreciated.  If possible, provide a time prior to the appointment when the interpreters and the Deaf individuals can meet to establish signing preference and shorthand signs. This will ensure clear communication between all parties.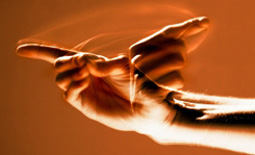 What is the estimated length and style of the Appointment?

Interpreters work on a two-hour minimum basis. However, with Sign Language, team interpreting is often required for longer appointments in order to alleviate the strain on an interpreter's shoulders. Due to the physical nature of the language, although one interpreter can interpret for two hours of consecutive back and forth conversation, that same interpreter can only interpret simultaneous, non-stop for approximately fifteen minutes. Most medical, legal, and even educational appointments are consecutive, question and answer conversations. The interpreter is not signing constantly, and so one interpreter will suffice. Group meetings, conferences, and theatre style interpreting, where the Deaf individual is in the audience and the interpreter is doing non-stop simultaneous interpreting, two interpreters are required and must take turns interpreting. Be sure to know ahead of time the format of your appointment and how long it is going to last. Be sure to allow ample time for breaks. Ask questions if you are unsure how many interpreters you'll need.

Language People operators are available 24 hours a day.
The members of our knowledgeable staff are happy to answer any questions you may have. They will match the ideal interpreter to your specific needs so that you and your client receive the best possible service.